3D facades
Various profiles and surfaces form the basis of the 3D form boards, a creative design concept for modern façade design.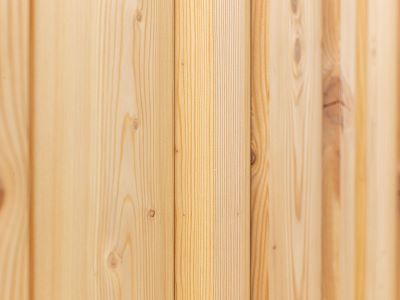 Weiss 3D facade
Depending on whether the profiles are arranged more randomly or rather systematically, the façade gets a lively or uniform character. In addition, the vertical installation makes for an interesting optical effect, which makes the building seem higher.
Particularly expressive and dynamic is a combination of various profile types and strengths. We offer strengths of 19 / 28 / 40 mm and two surfaces (planed or rough-hewn). In addition, we offer the façade untreated or stained, which pre-empts natural greying. The dimensions are 68 / 94 / 144 mm width, 4 m length and a shadow gap of 10 mm. All profiles feature standardised tongue and groove connection and are easy to install. Made from Siberian larch, they are particularly resistant and dimensionally stable. With its fine structure and auburn to yellowish-white surfaces, this type of wood is also suitable for a distinct façade design, even without additional surface coating.